So Many Reasons to Join
Our Wine Clubs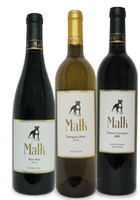 Malk Family Wine Club members are our extended family. With such limited quantities of our hand-crafted wines available each vintage, club membership is the only way to be sure to have access to these beautiful wines. Our club members receive two shipments per year, in April and November.

All members are invited to visit the estate and tour the vineyard, by appointment only. There is no membership fee, however there is a two 2 shipment minimum. Credit cards are charged at the time of shipment. We welcome you to join the family with three levels of club membership:
You know you want to
Sign Up For Our Mailing List
Keep up to date on the latest wine releases, events, and promotions.