Cabernet Sauvignon:
Malk Family Vineyard
Situated directly below the home of owners Brian and Nancy, Malk Family Vineyard lies adjacent to the Fay Vineyard at the base of the Palisades, edging the valley floor on the eastern slopes of the Stags Leap District. Surrounded by a mixture of live oak and black oak trees, the vineyard property begins with a gentle slope at the base, rising dramatically to the Palisades in the background. The vines on this two acre vineyard are bilateralcordon and unilaterally trained on a vertical trellis system. The property was purchased in 1997 and is farmed with meticulous, hands-on care. Low yields and a philosophy to produce as a winegrower, ensure the fruit is of the highest quality from vintage to vintage.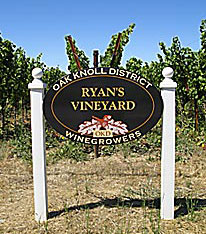 Sauvignon Blanc:
Ryan's Vineyard
Located on the Oak Knoll District in the heart of Napa Valley, Ryan's Vineyard named after owner George Verhey's son is the source for our much loved Sauvignon Blanc. This vineyard produces consistent wonderful fruit from 15 year old vines.

- Napa Valley Appellation
- Vine Age: 15 Years
- 25 Vine Acres
- Alluvial Soils

Pinot Noir:
King's Ridge Vineyard
We were fortunate enough to acquire some of the best Pinot Noir grapes available from the Sonoma Coast appellation. For those of you in-the-know, the vineyard is in the Fort Ross-Seaview area — what some people might call the "true Sonoma Coast." These vineyards are planted in a perfect location for Pinot Noir, on the hillsides over looking the ocean with cool maritime breezes and warm sunny days.